(LONDON) por Paula Tooths

Wow! Over 200 messages asking me to post this recipe…. First, thank you for every single message, for every minute that you spend to somehow send me a good vibe.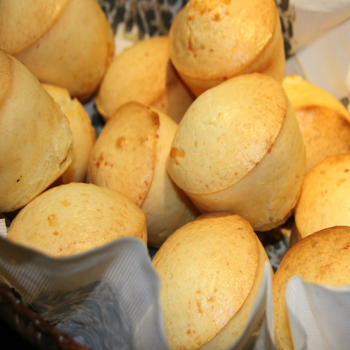 Well… a few weeks ago, I was working with my lovely friend Ita who served me with the most amazing version of light South-Brazilian cheese bread with tea.
Finally, yesterday she sent me the secrets and tips.
It's pretty straight forward, easy to make and delicious for any occasion.
Let's go to the recipe, shall we?
3 whole eggs
1/2 cup of olive oil (you can substitute it for vegetable oil)
1 cup of grated cheese (Ita recommends cheddar)
1 cup of milk
2 cups of starch
salt
1 spoon of yeast (to reach the original bread consistence, you will need "po royal")
Instructions:
Turn the oven on before you start to make the mix (10-15min)
Be sure that you use the same size cup for all the ingredients.
Blend all the ingredients into a blender.
Set the liquid into the little molds as the example below:
It should be ready in 12-15 minutes, depending on what sort of oven you have. They are ready when start to be lightly golden.
its delicious as it is but you can use and abuse of jams and spreads.
A delicious variation can be made just adding oregano, or any other herb.
You don't need to bake all in one go. You can keep the mix in your fridge for 3-4 days.
If you can't find the ingredients, below you have the links where I get them from:
Starck – Click here
Yeast (Po Royal) – Click here
Enjoy!
Gratitude, Love & Blessings,
x Paz
A massive thank you to my dear friend Itamara Dalla Alba who not only shared the recipe, but share good vibes in regular basis.