(LONDON) por Paula Tooths

Hi there!
Thanks God it's Friday!
Busy busy day… but I am happy! I am feeling healthier and its funny, but I started to notice little difference on my hair, skin and obviously, my body.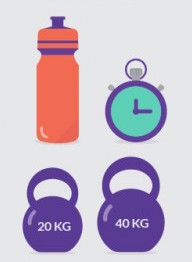 What I ate –
Breakfast
• 1 cup Cheerios, 1/2 cup berries, 1 tablespoon slivered almonds, 8 ounces fat-free milk (I blend all together and it was much better than i was expecting)
Lunch
• Quesadilla: Spread 1/4 cup fat-free refried beans over 1 small whole wheat tortilla. Sprinkle on 1 ounce shredded reduced-fat cheese. Top with salsa and another tortilla; microwave 45 seconds on High. (D-E-L-I-C-I-O-U-S!!)
• 1/2 cup low-fat cottage cheese topped with 1/2 cup mandarin orange sections
• Cucumber spears
Dinner
• 3 ounces roasted pork tenderloin
• 1 cup baked acorn squash, mashed with a pinch of cinnamon (surprisingly good)
• 2 to 3 cups salad greens with 2 tablespoons fat-free dressing
• 1/2 cup vanilla fat-free frozen yogurt topped with 1 cup berries (Thank you Daniel, to allow me to have some ice cream!)
I have posted on twitter all my today's meals. Check it out at @paulatooths
How I worked out –
Leg hold 6′ – 10 seconds x 3 (always 10 seconds rest between each set)
Plank on elbows – 10 seconds x 3
Wall chair (10 seconds hands on the air and 10 seconds with the hands up)  x 3
Knee up and knee down (as a squat but one knee at the time) 20 x 3
Two people leg raising 10 x 3
Leg hold open 1/6 – 10 seconds x 3
Squat with jump 10 x 3
Push ups (10 on the knees plus 5 army push ups) x 3
Wall chair (10 seconds hands on the air and 10 seconds with the hands up)  x 3
Leg hold cross – 10 seconds x 3
Classic squats 10 x 1 (I am pushing myself harder and making 3 series)
* If you are not familiar with the exercise names, youtube can be a great source! There you will find even the techniques to correctly perform them.
I added the house cleaning today lol, and the workout plan was the easiest part 🙂
Some of you asked me how long i am taking to perform this workout. It takes app 40 minutes plus 5 minutes stretching. Tomorrow I will add it here with some tips.
See you tomorrow!
x
Paz